Newyddion
WALES YOUNG FARMERS VENTURE NORTH
On the 14th of October 2022, thirty-five members of Wales YFC headed to Cumbria on the first Rural Affairs Study Tour since 2019. Members from Ynys Môn all the way down to Glamorgan embarked on the journey north.
The Rural Affairs Committee Chairman, Dewi Davies from Ceredigion YFC, attended the trip and told Wales YFC.
"The tour was a great chance for a range of members across Wales to come together to take ideas and inspiration from a range of innovative and forward-thinking rural businesses."
On route up to Cumbria we had our first visit at HJ Lea Oaks Feed Mill, Nantwich. HJ Lea Oaks are one of the longest established animal feed manufacturers in Britain with a history dating back to Swettenham in 1675. Many centuries later they are still doing what they do best, and it still being independently run by their 15th generation! The group split up and had a very interesting tour of the mill while the other groups sat in a very interesting presentation giving the history of the business.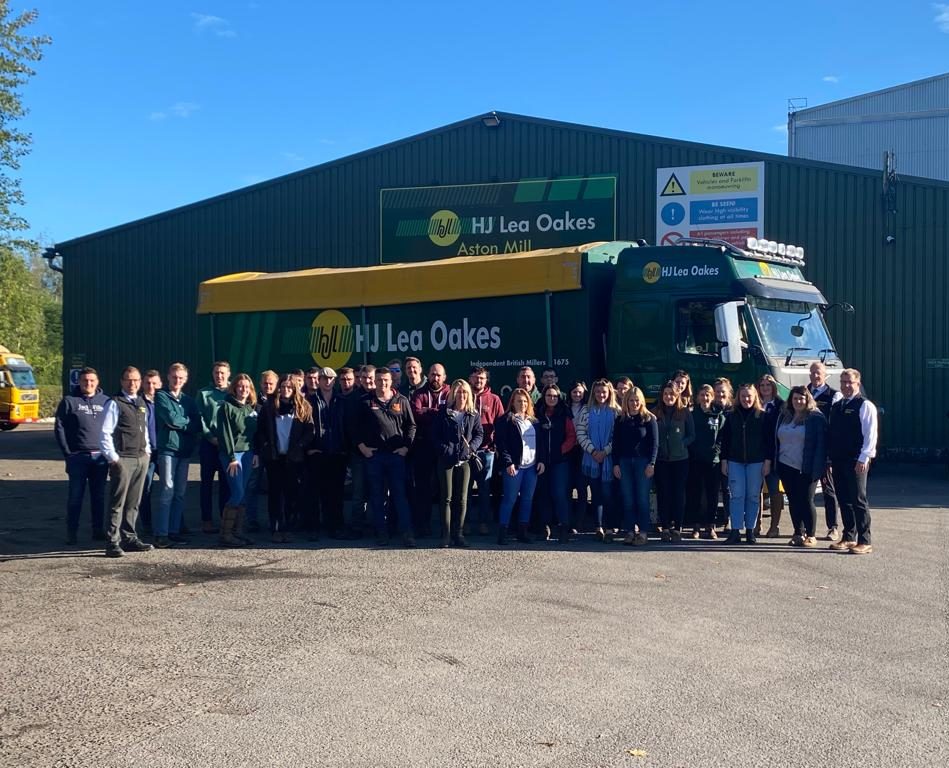 We were then back on the road and on the way to our final destination, Cumbria. That evening the members got to know each other at a social evening in Carlisle.
Saturday morning saw us head to our first visit of the day, the Pedigree Limousin Bull Sale at Borderway Mart, Carlisle. Members had a look around the excellent show of stock and had time to watch some of the bulls sell. The visit was finished off with a full English breakfast to set everyone up for the day.
Later that morning we headed to Thrimby Grange Farm were Matty and Dani Blair hosted us to see how they have progressed since taking on the farms as tenants. Many of the members were keen to know how they secured the tenancy and are improving the holdings cheaply and effectively to make the business run as efficiently as possible. Our members connected well with the couple and related to a lot of the barriers that they have had to overcome.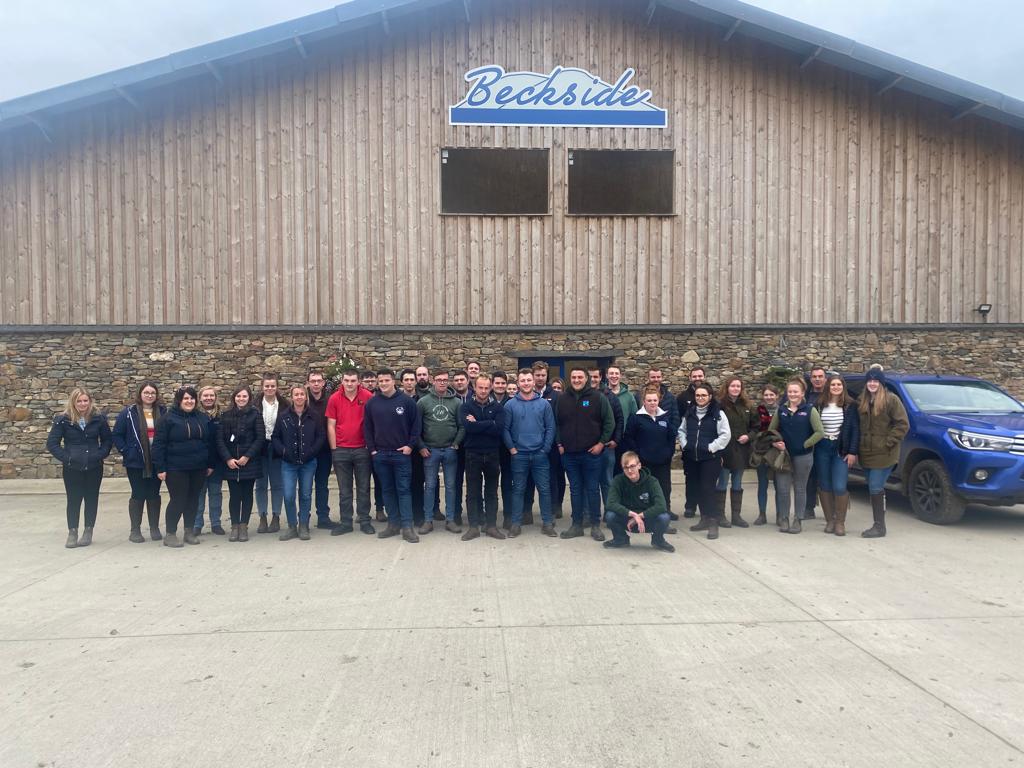 After our interesting visit to Thrimby Grange, it was South we headed for our last visit of the Day to the Allan Family at Beck House, Killington. Neil and Linda and their children farm alongside Neil's parents. They keep 1200 ewes; 450 mules and 700 Swale ewes that go to a Blue Faced Leister Ram and 120 first cross Texel Hoggets to Lamb. They also calve around 80 suckler cows and bucket rear around 40 dairy calves annually.
Later that evening Skelton YFC invited us to their annual West Moorland Show Dance where members were able to socialise with counterparts in Cumbria.
Bright and early Sunday morning, it was time to begin the first of the day's visits, this was at Ainstable Hall where Brian Hall showed us around his tremendous show of youngstock Heifers and Bulls and his Beltex sheep. Brian is a very keen stockman, and it showed with the quality of stock that was on show with him at his home.
We headed south then for Sunday lunch at the Crooklands hotel before our last visit to the Morris-Eyton Family at Beckside, Millom where they are milking 425 pedigree Holsteins with 430 head of young stock. They are averaging 12,000 litres and 962 kilograms of milk solids, they have grown enormously in the last 3 years and are still planning to grow their business more in the next 12 months. This was a very interesting and informative visit, which perfectly concluded our Northern travels.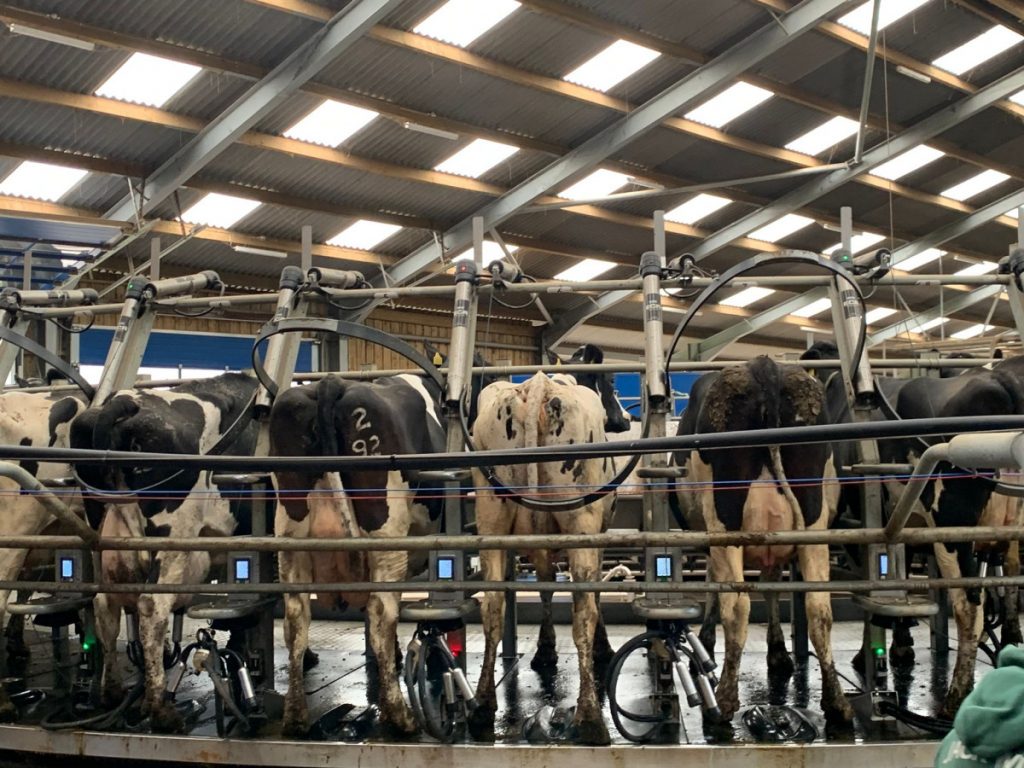 In a review of the trip, Angharad Thomas, our Rural Affairs Vice Chairman said;
"Seeing the challenges facing the feed industry in terms of supply and demand and how the feed was produced was one of my personal highlights of the trip. The variety of Cumbrian farms we visited was also interesting and hearing how they are preparing for the future."
We would like to take this opportunity to thank all of our hosts for graciously allowing us to visit. But also a massive thank you to NFU Cymru and FUW for sponsoring us on the trip. We are very grateful for their continued support.
After another successful Tour. Members have asked if there would be any more visits through the year, so we have spoken to A W Jenkinsons Penrith to arrange a visit for late spring 2023 to see their award-winning herd of Pedigree Limousin cattle. There will be one or two other visits during this trip that will be confirmed in due course.
We are already planning the Study Tour for 2023, we are hoping to visit the Isle of Man in October 23. Keep an eye on upcoming information relating to the trip as spaces fill up quickly!